Presentation Lifetime Awardee 2014

Lifetime Achievement
Award
Brita Sundberg-Weitman, human rights campaigner

Brita Sundberg-Weitman is Associate Professor of Civil Law and International Law. She is the former chief justice at the Solna District Court, former Court of Appeal Judge and former Chairman of the Civil Rights Movement. She has frequently appeared in the media with high-profile articles in legal security issues. Brita Sundberg-Weitman is an accomplished writer and she has previously issued Sweden and rule of law in the 2000s (2008), Back to the rule of law! (1985), Objectivity and arbitrariness in the administration of justice and public administration, (1981).
Brita Sundberg-Weitman is also known for her acclaimed foreword to Birgitta Wolf's book "Alexander A confiscated child" in 1986 and as an expert in the Assange Case, 2012.
Brita Sundberg-Weitman is the daughter of the late Professor Halvar Sundberg and Margit Hammarberg, and the sister of Professor emeritus Jacob W. F. Sundberg and Professor emeritus Johan Sundberg.
Lifetime Achievement
Award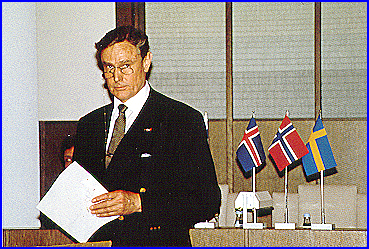 Jacob W. F. Sundberg, human rights defender

Jacob W. F. Sundberg is Professor Emeritus of Jurisprudence and Public and International Law.
On 5 October 2002, as a foreigner, he was inducted honorary member of the John Adams (and including George Washington and Benjamin Franklin as the first members) in 1780 founded National Academy of Sciences - American Academy of Arts & Sciences.
The nomination was motivated by prof. Sundberg's pioneering work in the field of human rights, in addition to his publications, he created and led the Moot Court Competition for the Sporrong Lönnroth Prize, which for 19 years held a yearly Mock Trial in practical European Law until June 2003.

The Competition for the Sporrong Lönnroth Prize had its headquarters at the University of Stockholm as a special course in Practical European Law Procedure, under the leadership of Professor Sundberg and administered by the Institute of Public and International Law. The competition is common for 10 Nordic universities and has been held since 1984.

In 1998 Prof. Sundberg was awarded the Danish Wallenberg Association's gold medal at a ceremony in the Danish parliament for his work with the Competition. The Moot Court Competition got a new manager in 2004 and it is now known as the Nordic Moot Court Competition on Human Rights.


Jacob W. F. Sundberg's production of writings has been enormoust. He has previously issued, "The Trip to Nowhere", Memories of a stormy professorship, Ius docendi, The European Convention and the leap to the East, Human Rights and Traditional Values, and many others.


Jacob W. F. Sundberg is the son of the late Professor Halvar Sundberg and Margit Hammarberg, and the brother of Professor Johan Sundberg and former Chief Justice Brita Sundberg-Weitman. He is married to the former prosecutor Kristina Sten Sundberg and they have three children and grandchildren.

For more information please see: http://www.ioir.se/